Every Full and New Moon the heavens download us with intense stellar energies that shift our vibrations and open us to new opportunities for growth.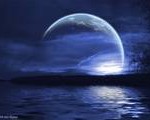 The New Moon this month falls on September 15th at 10:11 pm (EDT) at 23º 37′ Virgo. With Neptune trine Venus, the name of the game is actualizing your originality and resourcefulness by rejecting old conditioning, while seeking out new adventures in a freedom, loving way. Mercury quincunx Neptune challenges us to inspire others with our visions, to trust our intuition and think more realistically. Jupiter quincunx Mars adds to this by helping us to take risks, and organize our activities.
The Full Moon falls on September 29, at 11:19 pm (EDT) at 7º 22′ Aries, and is probably best spent alone as it will be playing havoc with our emotions. With the Moon conjunct Uranus expect erratic moods and behavior, and having the Sun in opposition to this gives a nervous, high strung, tense, and irritable disposition. Adding to the fray is Pluto squaring Sun and Moon. This intensifies emotions and forces actions in relationships, Mars squaring Venus denotes emotional issues in relationships, and Neptune square Venus, unveils unconscious and Karmic emotional difficulties. This is a good time to also stay away from alcohol, as it will only intensify how you feel.
Uranus/Pluto maintains its near exact square all month and continues forcing us to look at our core issues and work through them to raise our vibration.
 Other dates of note
September 7th: Venus moves into Leo for the next six weeks, which gives us an extra push to enjoy life, but watch out for the drama.
September 17th: Mercury moves into Virgo  (a sign it rules) for the next three weeks inviting in practical reasoning, order, and attention to details.
September 18th: Pluto ends it's six-month retrograde, helping us to move forward with our transformational projects.
September 22nd: Fall equinox (equal day & night) with the Sun moving into Libra bringing more harmony, sharing, and cooperation into our lives.
September 26th: Grand Air Trine of Jupiter, Moon and Mercury that gives us clear sailing in all realms of communication in most areas of life, expansive imaginations, common sense, and optimistic thinking. This Grand Trine is also a good time to work with legal affairs, or entertain in your home.